Switch your suit for shorts and make the ocean your new office!

Enjoy your future life by becoming a Divemaster and/or PADI Scuba Instructor with Roatan Dive Academy on the beautiful Caribbean island Roatan. Traveling the world while experiencing new cultures, landscapes and underwater wonders could be your daily routine. You will be trained and ready to join the exciting world of professional scuba diving. Being a PADI Divemaster or Instructor will open doors to unbelievable adventures, where no day resembles the other!
• Find out about Divemaster Internship availability and the people who have already signed up.
---
Located in beautiful western North Carolina, CooperRiis is a nurturing healing community where individuals with a mental health challenge or emotional distress learn new ways to gain coping skills, become independent and attain fulfillment in life through a comprehensive program that addresses mind, body, spirit and heart.

The talented and devoted CooperRiis staff is chosen for their kindness, for their ability to believe in and have hope for the residents, and for their mental health expertise and ability to find and appreciate the strengths of vulnerable people. Many of the staff have expressed that working at CooperRiis is a calling for them. A six-month commitment or longer is preferred. Apply online or email your cover letter and resume to hr@cooperriis.org.
---
Pendalouan is proud of their reputation for superb customer service and laid-back, yet organized programs. It's a beautiful place to learn more about yourself and what you want to do with your life!


YMCA Camp Pendalouan is seeking energetic and fun-loving individuals to be part of the Outdoor Education staff for the fall season! Outdoor Education Instructors will teach a wide variety of classes/activities to children of all ages, primarily in the 4th-6th grades. Interactive activities focus on local history, environmental awareness, group cooperation, leadership and recreation, with evening programs that may include square dances, campfires and night hikes. Positions are available during the fall season (mid-August through mid-November) and again during the spring (mid-February to the beginning of June). To apply, send your cover letter, resume and 3 references to Lori Willson.
---
Combining incredible adventure leadership programs with environmental education and fantastic recreational activities, Berkshire Outdoor Center is home to the largest and most comprehensive challenge course in the northeastern United States.


Program Instructors are responsible for leading group activities in the fields of outdoor education, leadership development, team building, and adventure recreation. This includes facilitation of the low/high ropes course, climbing & alpine tower, science & nature ecology, environmental education & hiking, waterfront & boating, and snow shoeing & cross-country skiing during the winter months. Now accepting applications for the fall season. Positions start September 4th with variable end dates any time between October 30th and November 23rd, and opportunities for winter employment. Opportunities are also available during the winter, spring and summer. Review all positions available or fill out the Expression of Interest in Employment form to begin the application process.
---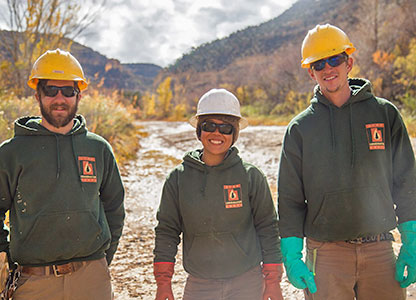 The Utah Conservation Corps is Now Hiring Fall Conservation Corps Crew Members!

Crew Members live and work outdoors as part of a 4-8 person crew, completing various projects along the Escalante River. Crews are trained to use chainsaws and a variety of hand tools to complete projects, which include invasive species removal, re-vegetation, riparian zone restoration, fire mitigation work and more. Positions run from August 22nd to November 14th. If you love the outdoors and are willing to work hard and be part of a team environment fill out the online application or connect with Sarah Haderlie. Positions open until filled and no conservation experience needed.
• What's it like in the Utah Conservation Corps? UCC Crews were interviewed all over this gorgeous state. Check out what they had to say in this video!