Projects Abroad. 10,000 volunteers a year. Hundreds of ongoing projects around the world. Which will you do?

Make a Difference Abroad! Projects Abroad offers unique and worthwhile volunteer placements, internships and language courses in 30+ amazing countries around the world. Projects are customized to your schedule so you choose when you start and how long you stay. Protect sharks in Fiji, work in an orphanage in India, build houses in Jamaica, teach English to monks in Sri Lanka, join a public health project in Ghana, learn Arabic in Morocco and much more!
---
Do you want to work at one of the biggest attractions in the U.S. and have an out of this world experience?

At the U.S. Space & Rocket Center, you will have the opportunity to work with guests and trainees to experience firsthand the past, present and future of America's Space program at the most spectacular space attraction on Earth. As a Space Camp Counselor (Crew Trainer), you will be immersed in a STEAM environment with astronauts, rockets and simulated space missions. This opportunity is more than just a few lines on your resume — it's a community, a culture, an opportunity to inspire the Mars Generation, and an out-of-this-world leadership experience. Now hiring 100+ individuals to begin work in January 2017 for a 3-10 month term.
---
Looking for the type of exciting outdoor hands-on job experience that puts you elbow deep in algae and knee deep in marsh mud, out on the open water on a research vessel, or splashing in the intertidal zone looking for marine organisms?

At Chincoteague Bay Field Station, you can enjoy an incredible life experience minutes from the beach and in a gorgeous coastal setting, while sharing and expanding your knowledge and enthusiasm about the world we live in. Educators will lead student groups through a coastal ecology program that spans the dynamic ecosystem of a barrier island including: bay/estuarine, salt marsh wetland, maritime forest, sand dunes and Atlantic coastal beaches. Now accepting applications for Field Station Educators (7 openings) to work from February 21 to November 20, 2017 (there is also one partial season position that runs through August 19th). Check out the job details and apply by November 20, 2016!
---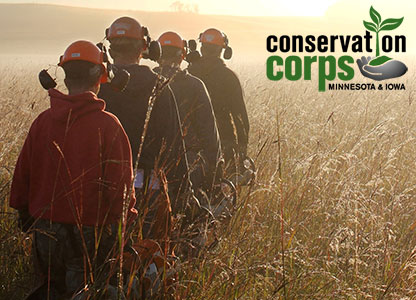 Spend a season or year outdoors conserving natural resources, gain field experience and make a difference with the Conservation Corps!

Conservation Corps can give youth and young adults practical and professional experience, train them for careers, and provide a stable income and an opportunity to pay for educational expenses. All of this while being outside in the beautiful states of Minnesota and Iowa. What more could you ask for? They have also just kicked off their biggest round of hiring of the year—offering over 200 full-time AmeriCorps positions! Leaders begin February 1st (Members start two weeks later) with work through December 15th. Apply by December 31, 2016. View a day in the life of a Conservation Corps crew.
---
Work for a noble cause. Gain valuable job experience. Pursue personal development. Live in a beautiful mountain valley. Enjoy incredible outdoor activities. Play with a great team of staff members.

Set on 325 acres in the heart of the historic Catskill Mountains of New York and surrounded by a stunning national forest preserve, Menla Mountain Retreat is a perfect environment for engaging your spiritual practice and artistic expression — working here will be dynamic, inspiring and fun! Now seeking a year-round Facilities & Maintenance Assistant to help with keeping the Menla property well maintained and functioning properly. Working under the supervision of the Facility Manager, responsibilities include lawn maintenance, painting, road work, event set up and break down, and minor repair work. Fill out the online application or email Nina Gramaglia for more information. Position starts in mid to late December.