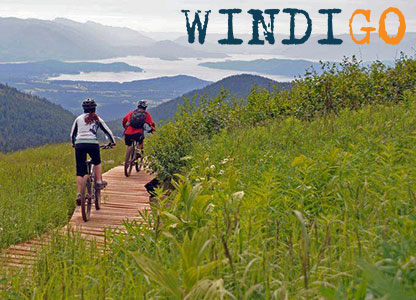 Do you want to hit the open road, enjoy an adventure of a lifetime and get paid for it? Join a team that is passionate about organizing and delivering high quality tours for people from all over the world.

Specializing in customized small group camping, lodging, hiking and themed tours for international clients traveling in a 15-passenger van, Windigo is seeking adventurous Tour Leaders to drive, guide and oversee the day-to-day logistics for tours throughout Canada and the USA. Tour Leaders will lead with service and share their passion for the outdoors through innovative trips that will get your international group hiking, biking, paddling, snowmobiling, dogsledding, snowshoeing and discovering! It's not a job opportunity, it's a lifestyle. The operation season runs from April to late October with contracts available for a partial or full season—join the adventure!
• What's it like to be a Tour Leader for Windigo? Watch this video »
---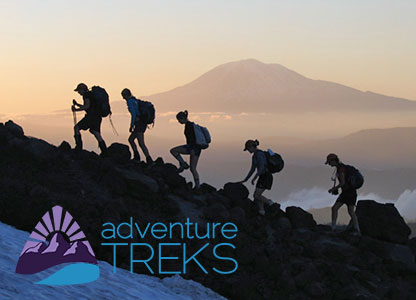 Whether climbing snowy Mount Adams or teaching rock climbing in sunny California, Adventure Treks Field Instructors will lead groups of teenagers in diverse outdoor settings that will be challenging, rewarding and fun.

hrough adventures designed to foster community, build confidence and teach leadership, Adventure Treks operates 13 to 30-day wilderness-based programs for teenagers in BC, AK, CA, OR, WA, CO and WY. Instructors are in charge of managing group dynamics, coordinating logistics and leading activities that include backpacking, rock climbing, mountaineering, mountain biking, caving, canoeing, cooking, orienteering, Leave No Trace concepts and general environmental education. There is the opportunity to work both summer (early June to mid-August) and fall school group programs (late August through late October in North Carolina). To apply, email your resume to Joe Sisti.
• VIEW the method behind the magic at Instructor Orientation and meet the faces of Adventure Treks.
---
Camp Summit provides a great opportunity for growth, fun, resume building, memories and impacting the lives of remarkable campers who have a wide range of disabilities.

Camp Summit provides a great opportunity for growth, fun, resume building, memories, and impacting the lives of remarkable campers who have a wide range of disabilities. Seasonal staff positions at Camp Summit include Counselors, Unit Leaders, Rovers, Nurses, Kitchen Staff, a Program Director and Activity Directors in the following areas: Arts & Crafts, Horses/Wrangler, Kaleidoscope, Nature, Pool, Ropes Course, and Sports & Games. 2017 job opportunities are available during the summer months (May 15th to August 20th, with a staff break from July 1-7) or the fall season (September 5th to November 19th). If you are caring and compassionate, able to work on a team, open minded, willing to learn, energetic, enthusiastic, and encouraging, fill out the online application or contact Amanda Davis for more info.
---
If you love working with children, there's no better way to spend your summer than working as a Camp Pinnacle Trip Leader or Counselor!

It's not only one of the most important and rewarding jobs you will ever have—it's the hardest job that you will ever love. Summers at Camp Pinnacle are packed with growth opportunities for both staff and campers, with the hopes that everyone leaves camp with new experience, friendships and a greater love for the outdoors. Your responsibility as a leader, mentor and role model cannot be overemphasized. Perhaps the most important part of Camp Pinnacle is the opportunity for campers to interact closely with top-quality role models. The summer season runs from late May to early August. Once Pinnacle receives your completed online application, they will contact you to begin the hiring process, which includes three thorough interviews. View a quick glimpse of camp life »
---
Battle Creek Outdoor Education Center, Clear Lake Camp has assembled an experienced and enthusiastic team to carry out the mission of connecting people to nature.

As an Outdoor Education Instructor/Counselor you will work with groups of 5th or 6th grade students leading a mix of activities that include team building challenges, high ropes, climbing tower, pond life, predator/prey games, snakes, canoeing, archery, cookouts, orienteering, night hikes and more. You will work in shifts of 8-10 hours per day and rotate into the dorm every 2 to 3 weeks. Now accepting Instructor applications for the spring season (April 3rd–June 9th, with extensions available for the summer and fall seasons). To apply, send your cover letter, resume, and four professional references (that include relationship, phone and email) to Amy Cherry.
---
Looking to join a team of creative Experiential Educators at the 5th largest Y camp in the county?


YMCA Camp Greenville Resident Program Staff will teach and provide curriculum development on topics such as pond and forest ecology, orienteering, canoeing, astronomy and geology as well as lead and facilitate adventure-based activities including high ropes, rock climbing, bouldering, hiking and group dynamics to youth. Summer Camp Jobs includes Counselors, Adventure Specialists & Trip Leaders, Naturalists, Activity Directors, and Resource and Administrative staff. To apply, visit YMCAGreenville.org and use the search keyword Camp to view all current job openings or contact Crystal Kahler for more information. Take a tour of the camp in 60 seconds »
---
Are you interested in teaching hands-on classes in team building, ecology, conservation, outdoor recreation and environmental education in a faith-based setting?

RREEP Program Specialists will assist with all aspects of the environmental education program including staff training, curriculum development, scheduling, teaching and activity area supervision (high ropes, challenge course, archery and nature center). During the summer months, you will work primarily with guest groups providing hospitality services and facilitating their program needs. Applicants must be a professing Christian and have the ability to articulate your faith. Positions run from mid-March/April through November. If you are an energetic educator and program-minded individual who is enthusiastic and passionate about working in an outdoor camp and retreat setting, email your cover letter, resume and three references to Penny Laitos.
---
YMCA Camp Hanes is looking for fun, energetic, team-oriented and mission-driven individuals who want to wok in an outdoor setting with children.


YMCA Camp Hanes offers a variety of summer camps, conferences, retreats, and an outdoor education program led by trained Instructors who facilitate the learning experience through group work, guided discovery, participatory discussions and fun activities. During the spring and fall seasons, Outdoor Education Instructors are responsible for teaching and leading a blend of fun and non-formal educational camp-based activities and science-focused curriculum with school groups. The summer camp season brings on a variety of activities at the traditional residential camp, adventure camp, and day camp. Positions are available during the spring (February 27 through the end of May), with a summer camp and fall season work option. To apply, email your cover letter and resume to Letha Lineberry.
---
Innisfree Village is a working and life sharing community for adults with intellectual disabilities.

The Vegetable Garden is one of many workstations that provide therapeutic work opportunities for folks living here. Vegetable Garden Interns will support the seasonal needs of vegetable operation beginning with greenhouse planting and spring bed preparation. Throughout the season, work will focus on planting, weed management, harvesting, drip irrigation, CSA prep, vegetable distribution, and supporting others in their gardening tasks. Positions run from mid-March through November 1st, typically with a 5-day, 40-45 hour/week schedule. Compensation includes $450/month, meals, and shared housing in the Village. If you are community-oriented with a strong interest in intensive organic vegetable gardening and open-minded to working alongside fellow gardeners with disabilities at times, email a resume and short cover letter to Kyle and Meagan.