Seize the Journey. Transform Lives. Educate and Empower. Carpe Diem Education inspires growth and transformation through experiential education, community, and intercultural exchange.

Serving as mentor, role model, teacher and leader, Overseas Educators challenge students by consciously teaching them how to be better group leaders and better self leaders — and how to safely travel independently anywhere in the world. Applicants must have direct experience living, working or independently traveling in the regions for which you apply, professional experience leading or facilitating groups, current certifications in WFR/WFA, and the ability to legally work in the US. If you feel you have the right balance of soft skills, travel savvy, cultural understanding, mentorship and passion, apply now. Currently seeking male Educators to lead in East Africa, South America and Cuba for the fall season. Staff training begins on August 31st in Portland, Oregon for two weeks, with program trips that run through December 7th.
---
Combining incredible adventure leadership programs with environmental education and fantastic recreational activities, Berkshire Outdoor Center is home to the largest and most comprehensive challenge course in the northeastern United States.


Program Instructors are responsible for leading group activities in the fields of outdoor education, leadership development, team building, and adventure recreation. This includes facilitation of the low/high ropes course, climbing & alpine tower, science & nature ecology, environmental education & hiking, waterfront & boating, and snow shoeing & cross-country skiing during the winter months. Currently hiring for the fall season starting August 15th and finishing November 15th, with an opportunity for multi-season employment. Review all positions available or fill out the Expression of Interest in Employment form to begin the application process. This is your chance to work with some top-notch outdoor educators!
---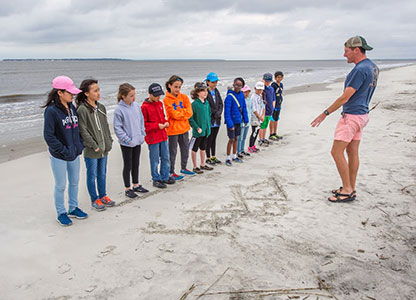 Inspire young people through experiential outdoor learning at one of the largest environmental education programs in the nation.

Located on one of four barrier islands in Georgia that has access by car to the mainland, Georgia 4-H at Camp Jekyll offers environmental education programming for K-12 school groups. Environmental Educators teach engaging, hands-on lessons focused on life and earth science, coastal ecology, and marine science. Other duties include captive wildlife care (reptiles, amphibians and fresh and saltwater aquaria), helping facilitate dining hall operations, and upkeep of facilities and grounds. The season follows the traditional school year calendar from late August to late May, with a two-week break beginning in late December. If you have a commitment to education, a genuine interest in child development, a dynamic personality, and well-developed communication skills, apply at UGAJobSearch.com (search for Camp Jekyll under Location of Vacancy); then notify Lauren Nys Kuschner by email to confirm receipt.
---
Cultivating five acres of crops on 26-acres in rural Sumter County, Florida, Little Pond Farm is a diverse organic vegetable, fruit and cut flower farm coming into its fifth season.

Little Pond Farm is currently hiring Farm Crew and a year-round Crew Leader for the 2017-18 season! The Farm Crew will build confidence and master daily activities that include seeding, weeding, planting, greenhouse work, mulching, irrigating, transplanting, trellising, harvesting, washing crops, packing trucks for market and selling produce at the farmer's market. Positions begin in early August, the growing season runs through the end of May, and work can range from 50-60 hours/week. If you have a positive attitude, a love for working in a team, sense of urgency, an efficient work style, great problem solving skills, attention to detail and excellent customer service skills, fill out the online application.
---
BaMidbar Wilderness Therapy guides Jewish young adults (18-26) struggling with mild to moderate social, emotional, behavioral, and academic challenges on 54-day therapeutic expeditions.

Serving as mentors, wilderness guides and support system, Field Guides will apply therapeutic concepts, teach technical and fundamental skills, integrate Jewish values and traditions, and connect personally with program participants, encouraging each student to move beyond their comfort zones to experience new, unexpected levels of confidence, personal achievement, and growth. BaMidbar's pilot program will begin in January 2018, with staff training from January 5th-14th and spring season programming from January 17th-May 13th (staff will work four, 15-day shifts). Applicants must be at least 21 years of age, have a Bachelor's degree, experience working with young adults, significant backcountry trip leading experience, WFR/EMT certification (preferred), and an understanding of Jewish culture, values and cycles. To apply, send a cover letter and resume to Jory Hanselman.